About Gold Coast Glamour Photography
Five minutes with Kate Bevan of Gold Coast Glamour Photography.
Q. So how did your journey in photography start, Kate?
One image. One powerful image I took of my baby brother. It was 1995 and I was 14 years old living out at Jimboomba on acreage with horses. I was bored, so I borrowed my Mum's film camera and went hunting for the perfect snap.
I saw my 10-month-old mischievous baby brother lay over a weathered stock saddle in the dry dirt. It had hardly rained that season, there were horseshoe prints deeply embedded in the dirt beside the saddle…
I leant over to call his name. He turned his face up to me and stared back with his piercing blue eyes and blonde hair. I took the shot. It's a photo that stuck with me, and I will never forget how excited I was to get that printed.
I knew it was something special and I understood the value and power of photography. 
My real photography photographic obsession didn't begin then though, it was after the birth of my first son in 2001. I brought a film SLR and phoned the local photographic studio daily until they gave me a job! The rest is history.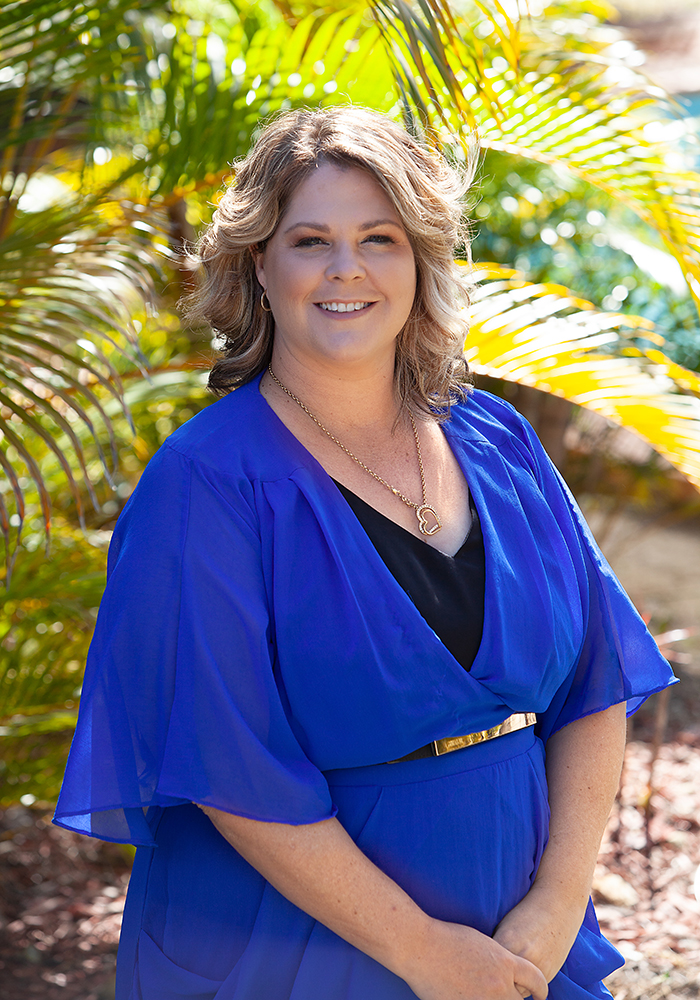 Q. What are some of the things people should consider before doing a boudoir, glamour, family or corporate photography shoot?
Naturally, people become nervous when on the other side of the camera, heck I do! Having a rapport and connecting with your photographer will ensure you have a great time and enjoy the experience.
It's meant to be easy and fun! So, it's always a good idea to check out a photography services' reviews. See what other clients past, present and future have to say, and also check out the photographers work to see if it's your style.
Q. What are some of the highlights or special moments you've experienced being one of the leading Gold Coast photography services so far?
Often my clients come to their shoot as strangers and leave like we have been lifelong friends. We laugh together, we are vulnerable together and we have a great time. The connections I make with clients are really special. 
Then when it comes to the reveal, my clients' reactions are priceless. Knowing you have helped change someone's perception of themselves, empower them and capture something incredibly special… that in itself is a highlight. "The opportunity to work with Katie has easily been one of the most memorable experiences. I battle with my own self esteem issues and Katie was very encouraging and made me feel comfortable throughout the entire session.
"I left feeling much more empowered and the outcome has been nothing short of amazing. I would recommend anyone who is looking for a boost of confidence to organise your shoot with Katie and treat yourself!" Jacky Zala
Q. What do you think makes Gold Coast Glamour photography different from other photography services?
I have very high standards when it comes to customer satisfaction.
In my 20 years as am accomplished portrait photographer, I have photographed thousands of people all over the globe so naturally I connect well with clients. I am a passionate photographer and skilled in my trade.
We are here to help our clients every step of the way to ensure they feel comfortable, have a memorable experience, love their photos and their beautiful products.
With my 20 years experience as an accomplished portrait photographer I have photographed thousands of people in many different settings and poses. The feedback and the reviews from my clients let me know I am doing a great job and I am humbled to be helping so many clients. .
Q. What are two or three things your customers say to you that makes you know that they love your service?
They felt so nervous at the start, but my experience has helped them relax…
They had so much fun…
They love every single one of their photos…
They feel confident again…
"My wife and I had such an amazing time yesterday at our shoot. Full of laughs and fun. Kate made us feel so relaxed and can't wait to see our final photo's. highly recommend having a shoot done." Damien Partridge
Q. Are you interested in winning awards or anything?
No, never entered any photography awards really, they just don't interest me. My awards have and always will be, the smile on my clients faces. That gives me more satisfaction than any award.
Q. What's next for Gold Coast Glamour photography?
We are constantly growing, and our studio is equipped with some amazing scenes and props to provide clients with the ultimate fun photography experience. We take all of our clients' feedback on board and implement their suggestions to make our service the best it can possibly be.
Q. Okay, so what do you do when you're not taking photos?
I have three beautiful children, but only two of them live at home, one with special needs that demands a little bit more of my time. I also live and work with my partner of 18 years who is an incredible picture framer for our sister business Iconic Printing and Framing. Not sure if you're into star signs but I live with three Taurus's and I can confirm… they are all stubborn!
My 20-year-old recently joined our team, so I am super excited to have him onboard. 
I love music. My favourite artist is Eminem but I do love dance music too. I think any music with some beat to match my personality as I can never relax, I am also on the go go. 
Like many of us, I love to crank my music and sing out loud thinking I sound so awesome but really its just because the music is drowning out my terrible singing. Truly, I think I missed my calling.
I love to do a reno too! One year I applied for the Block. I don't mind rolling my sleeves up and getting my hands dirty. 
At the end of the day, I'm really passionate about people, photography and learning new things. I like to learn and understand the mechanics behind everything- seeing things beyond their face value.
Before I go…
So that's a little about me and the Gold Coast Glamour photography story so far which we can talk more about when you organise your photo shoot with me!